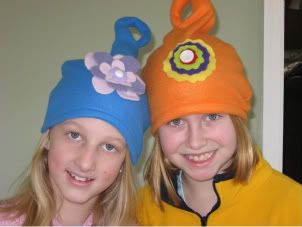 Here's a chance to win a super cute kid's hat and help a really great cause.

These are Isa's Hats. My friend, Stephanie Boarman, is sewing and selling these hats to raise money for her childhood friend. Her friend's daughter, Isa, has been diagnosed with leukemia. You can read about their journey and struggle on their blog.

So Stephanie is responding by doing what she does best - designing and sewing. Here's part of the note she sent me.


I have started to take action. I am hoping to raise money for this family while they are dislocated living in an apartment close to the hospital while Isa undergoes treatment. Raising money to offset the expenses they are incurring so they can be close to their daughter through this whole process is the best I can do for them now. The last thing you should have to worry about when your daughter is fighting for health - is how you are going to afford to buy dish soap, or disinfectant, or groceries, or gas money, etc. They are also hoping to raise money for the hospital wagons (which you can read about in the blog above). This is a good family that will pay it forward when their crises is done, and they come across someone else in need of help.

So - I am selling hats for Isa. These hats are $15.00 each and every penny (minus the cost to buy the materials) will go straight to her family. OH yeah - and they are SUPER COOL!!!

Please contact me with your order (s.boarman@worldnet.att.net) - tell me how many you want and we will discuss payment. I will also be entertaining help to produce these. My expectations are high for all of you, I expect a flood of orders! when that happens I will be calling on my sewing friends to come over and help me knock these puppies out!

You can also order these directly from my Etsy shop - http://www.etsy.com/view_listing.php?listing_id=20183354

Thank you dear friends
Stephanie Boarman

So! How can you win one of these great hats?
To get an entry:
Leave a comment on my blog. Write some words of encouragement to Isa and her family - 1 entry
Visit Stephanie's Etsy shop and tell me your favorite item - 1 entry
Buy a hat! Post a comment here w/ the email address you used in the purchase so I can verify the purchase - 3 entries per purchase

Post this contest on their blog, link back to my blog and the Etsy shop. You must post a comment here w/ the link to your blog - 1 entry

Post it anywhere else on the internet - 1 entry but I must be able to verify it so sites that are password protected will not count
I MUST have an email address so I can contact you. Any entries without an email address will be excluded.
The contest will run until 11:59pm EDT on February 26. That's a LOT of time to spread the word about this contest! Random winners will be drawn using Random.org. USA entries only. If the winner does not respond w/in 3 days, new winner will be chosen.
Get busy people!!