Yes, it's been a long time. I have no excuse. Well, I have plenty of excuses including a bad back, moving twice in four months, etc, etc. Bottom line is that I haven't been sewing and I miss it.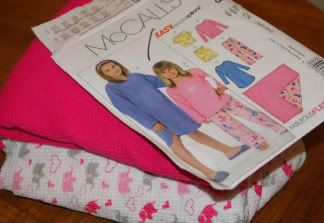 I decided to start 2010 off with something fun, bright and easy. I'm making some hot pink elephant pajamas for my daughter. So far I've cut the pants. I'm going to cut a top in matching hot pink and give her a solid top and print bottoms. For some reason she has more bottoms than tops. I hate sewing collars and sleeves but I'll probably end up making as many tops out of these two cuts of material as I can.
Tonight, I'll sew the bottoms, hem them and put the waistband in. Tomorrow, sleeves and collars, oh my!